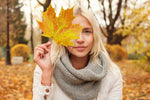 From sunscreens to serums to cleansers, creams, and lip care products, there's a wide variety of CBD-infused skincare goodies that should be a part of your beauty supply for the fall season. If you haven't already experienced the  amazing benefits of CBD for your skincare, this could be your chance to jump onto the bandwagon and sample the performance of CBD yourself.
And if you already love the CBD results and looking for the best products to add to your stack for the season, keep reading!
EyeDentify – Face Wash
Let's start our list with the most basic skincare product that you probably need every day – a face wash. The EyeDentify Face Wash features high-quality, vegan ingredients, and is infused with American-grown hemp. This product doesn't only guarantee clean skin but also helps your skin glow. The gently formulated face wash is suitable for all skin types, including sensitive skin. Add to your daily skincare regimen and let the powerful blend of ingredients help you achieve optimal results.
This CBD-infused face wash is our top choice for deep cleaning your skin first thing in the morning, after you've been exposed to the endless pollutants, and before hitting the bed. It will help promote homeostasis of the skin, laying the perfectly balanced foundation for great skin.
Nature's Wealth – Full-Spectrum Vitamin C Cream
If vitamin C is your go-to moisturizer, try on this premium Vitamin C Cream by Nature's Wealth. Infused with full-spectrum 500mg CBD, the product guarantees brightening and radiant effects for your skin. The incredibly hydrating formula locks in the moisture and keeps your skin soft and supple throughout the day. But it is the antioxidant-rich vitamin C and CBD goodness that makes this product so effective.
The vitamin C cream also has collagen-promoting ingredients and anti-inflammatory properties, making it suitable for both sensitive and aging skin. With regular use, you can achieve a beautiful glow for your skin that's hard to miss out on.  
She Biology – Rich Skin Face Serum
Skin serums are all hype these days. And the ones infused with the amazing benefits of CBD are worth trying. The She Biology Rich Skin Face Serum is an outstanding product that will transform your skin. Experience a healthy glow like never before with this one-of-a-kind product, your 3-in-one solution for various skin needs.
It has a fast-absorbing water-based consistency with ingredients rich in nutrients and antioxidants. It leaves a brightening glow that evens out pigmentation and works wonders in hydrating dry and mature skin. If you have any or all of these skin problems, this one product is all you need to fix them up. Try out this all-natural, effective skincare for yourself.
Green Bee Botanicals – Quench Moisturizer
Loaded with the goodness of ultra-hydrating ingredients, this unique product features the rare CBG (the most potent antioxidant of cannabinoids) and CBD. Couple that with skin-benefiting minerals, vitamins, and antioxidants, and you will have this amazing blend in the form of Green Bee Botanicals Quench Moisturizer.
Besides the potent organic ingredients, this super-rich moisturizing formula will take care of all your drying skin needs. Don't let fall take the moisture away by blessing it with this amazing product twice every day. The blend also contains hyaluronic acid, mango butter, and rosehip seed oil, among the rest. Experience happy skin from within!
Genesis CBD – Firming Peptide Cream
This skincare product does what it says – firms your skin out! It adds the fullness your skin deserves to fight off premature signs of skin aging. The Genesis Firming Peptide Cream is not just infused with CBD but also features peptides that are crucial for maintaining your skin health. Add this amazing moisturizing cream to your daily routine this fall and see your skin transform.
Additionally, it contains six peptides for promoting healthy skin cells, elastic, and collagen to help you achieve firmer skin. Say goodbye to dry skin and try this potent CBD skincare product for aging skin.
Thisworks – Stress Check CBD Skin Booster
Suitable for sensitive skin, this soothing serum with 1% CBD and Cica extract is one of the best products you can add to your skincare routine this season to balance out, nourish, and boost your skin health. The thisworks Stress Check CBD Skin Booster is what you need to strengthen your skin under stress and keeps it hydrated for longer.
The product works best for super dry skin when used on its own and can also be mixed with a moisturizer for best results. You can add a protective layer to your skin through this reliable serum that keeps your skin in the best shape, even if you have a maskne problem.
l i b e r a t e – CBD Glow Face Mist
A mist is your best friend when your skin feels flaky and dried out. This could be a common occurrence during the fall season. This amazing CBD Glow Face Mist by l i b e r a t e will instantly hydrate your face and absorbs like a serum, treating your dry and flaky skin from within.
But dryness isn't the only thing it combats. Enriched with vitamin E, antioxidants, hyaluronic acid, and rose water, the product also features anti-inflammatory benefits and works well for all skin types. Achieve instant hydration and lock up that moisture infused with the goodness of CBD.
HOO RAA – Let's Get Fizzical
If you haven't tried one already, give a shot at this unique product with amazing skincare benefits. The HOO RAA Let's Get Fizzical is your ultimate CBD bath bomb that you definitely shouldn't miss out on. This isn't your regular bath bomb that would just make the water bubbly, glittery, or colorful.
This amazing bath bomb is the de-stressor you need in your routine to feel relaxed and rested. Exhilarating with the burst of zingy lime, the bath bomb featuring purifying eucalyptus and stress-busting CBD is just what you need to up your self-care game.
Billy Jealousy – Shave Cream, After-Shave Balm, Beard Oil
Skin care is not limited to the feminine skin. Whether you have a flaunt-worthy beard, clean stubble, or a preppy shaved look, you too can benefit with CBD-infused products for the best results. The Billy Jealousy Shave Cream, After-Shave Balm, and Beard Oil set is what you need to tackle all your male-skin problems. The amazing properties of pure CBD will leave your skin feeling fresher, nourished, and smoother. Not to forget the deep moisturizing effects.
The trio includes a variety of natural and amazing ingredients to deliver the best result. These products are enriched with essential oils and cooling features for a calming effect. Prevent redness and irritation after shave with these amazing products at your disposal.