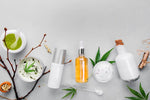 Winter can take a toll on one's skin, making it look dull and flaky. The cold weather sucks all the moisture out and makes the skin dry and itchy. But you can't ignore that with Christmas around the corner and all those pictures you will be posting on your social media handles.

With all the amazing products, skincare shouldn't be tricky anymore. Luckily with the help of the right skincare ingredients, you can have flawless skin this holiday season. And if you've already heard the amazing things about CBD skincare and want to try it out this season, you've come to the right place. We bring you the best winter skin care products with CBD, so keep reading!
EyeDentify – CBD Face Wash
Struggling with dry skin? Is cold weather taking away your skin's natural glow? Try this amazing EyeDentify Face Wash, which is great for all skin types. This gentle face wash helps open up clogged pores, exfoliating dead skin. It can remove any flakiness caused by dryness. The natural hemp extracts in this face wash help with flare-ups and redness.


This face wash doesn't contain any THC and is vegan-friendly. It is formulated with ingredients like grapefruit oil and aloe, which help brighten the skin. Add it to your winter skincare routine, or use it as a stocking stuffer for your family.
Keen Organics Brand – CBD Derma Scrub
To avoid dryness this winter, try exfoliating your skin with this CBD-infused scrub. Not only does it remove dead skin, but it helps heal your skin's barrier. The Keen Organic's CBD Derma Scrub gives skin a softer appearance and can even be used on your body.


This scrub contains hydrating ingredients like avocado oil and shea butter. It also contains orange peel oil for extra antioxidants and protection against free radicals. Use this scrub on your knees and elbows to help remove dryness.
She Biology – Superfood Rosewater Essence
Looking for a product that helps your skin absorb products better? Try out this She Biology Superfood Rosewater Essence for hydrated skin. It contains hyaluronic acid, which helps the skin retain moisture, giving it a plump appearance. Rose water brightens up the skin and gives this essence a heavenly scent.
This essence works like a toner and can help reduce the appearance of fine lines on the face. It also includes 1000mg of CBD for skin that looks vibrant. All you need is a few drops on a cotton pad before you apply your serums. For best results, use it once a day.
Hemp Essence – Bloom Hydration Serum
A good serum can help your skin glow from within. The Hemp Essence Bloom Hydration Serum is an excellent option since it contains natural hemp, which is great for acne-prone skin. Made with plenty of antioxidants, this serum brightens the skin and keeps its barrier protected. It contains hyaluronic acid for skin that looks moisturized all day long.


Not to mention that it smells heavenly, just like lavender. This serum can help prevent premature aging of your skin. It works to reduce fine lines and wrinkles, helping your skin look youthful.
Green Bee Botanicals – Quench Moisturizer
Moisturizing is an important part of any skincare routine, especially during winter. It can reduce dryness and be a final protective layer for all your other skin products. The Green Bee Botanicals Quench Moisturizer contains CBD, which helps reduce inflammation in the skin. It can even help with skin conditions like eczema.


This formula is cruelty-free and made with organic ingredients that nourish the skin. It's free of parabens and other harmful chemicals as well. Ingredients like hyaluronic acid and rosehip oil give the skin a glowing experience. Use this quench moisturizer twice daily for dewy skin and an even complexion.
Luxu – Ultra Care Overnight Mask
Luxu Ultra Care Overnight Mask is perfect for people that don't have time for an elaborate skincare regimen. This anti-aging mask has a lightweight consistency and leaves the skin feeling rejuvenated. It contains CBD extract for radiant skin and is suitable for every skin type. If you deal with skin problems like psoriasis, this mask will help reduce redness.


It absorbs into the skin with ease and can be worn overnight. This face mask contains hydrating ingredients like aloe and mushrooms. Ingredients like calendula help calm down flare-ups. This product is not tested on animals and is made with high-quality organic ingredients.
Nature's Wealth – Vitamin C Cream
Vitamin C can help your skin look brighter and glowing, so why not use it for your winter routine? The Nature's Wealth Vitamin C Cream is chock full of antioxidants that give the skin a radiant glow and keep it safe from impurities. What makes this cream much better is that it includes full-spectrum CBD. This cream is best for getting youthful-looking skin that retains its elasticity.


Not only is this vitamin C cream GMO-free but it's the perfect present for vegans. This cream can even help your skin tone if you have sensitive skin and redness.
Perricone MD – Hydrating Eye Cream
The eyes deserve love, especially during colder days. This Hydrating Eye Cream by Perricone MD can keep your under eyes from looking puffy and it also keeps them moisturized. It's made with CBD oil that has a soothing effect on the skin and reduces fine lines.


This eye cream is non-comedogenic and doesn't feel heavy on the face. It has a lovely fruity scent; you only need a small amount.
No Thank You – A Balm For Your Lips
Chapped lips can be painful, and they look quite unsightly. Most lip balms need to be reapplied constantly and contain drying ingredients. For luscious lips, try this hydrating lip balm infused with cannabis Sativa flower this winter.


The No Thank You A Balm For Your Lips includes nourishing ingredients like beeswax and coconut oil that keep your lips soft. Vitamin E helps brighten the lips, while cocoa butter removes skin flakes. This lip balm smells like vanilla and mint, perfect for the frosty weather.

Not only is the packaging lightweight, but it's compact and great for carrying in makeup bags. Add this lip balm to your essentials list this winter.