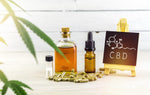 The holiday season brings many reasons to plan a vacation or travel back home to celebrate the festivities around loved ones. But traveling may cause anxiety to some people. Buying presents and hosting family can all add to the stress buildup. One good way to deal with it is by using effective CBD products.

CBD-infused tinctures and gummies can help you relax, especially after a long flight. However, the one question that graces everyone's mind is if it is possible to travel with CBD?

The short answer is that it depends on the state and the products you carry. Most states consider CBD products legal as long as they contain 0% THC. Other states, such as Alabama, label CBD products illegal unless they are for medicinal use.

This being said, there are still ways to enjoy your CBD products while traveling and we will reveal them all in this blog, so keep reading!
Ways To Travel With CBD Products?
Always state laws regarding CBD before you pack your favorite CBD products. If your CBD oil or gummies contain less than 0.3 % THC, you can carry them with you while traveling. The best options when it comes to traveling with CBD are skin care products and gummies. There is a wide variety of products that you can choose from.

If you plan to travel abroad, make sure you do the proper research beforehand since CBD is illegal in many countries.
Why You Should Travel With CBD Products
If taking a flight makes you nauseous, causes anxiety or headaches, or any discomfort, CBD can save the day. The right product will keep you calm and make your journey a bit more bearable.

Even for road trips, CBD products keep motion sickness at bay and make the ride fun and memorable. For longer routes, a calming CBD product can also put you to sleep without causing anxiety.

CBD gummies are a good way to relax your body and catch some sleep on the way. CBD skincare - such as face creams or body lotion - can keep your skin hydrated when exposed to dry air and altering weather conditions.
Are CBD Products Allowed On Planes?
As stated earlier, if the product you carry contains less than 0.3% THC, you can carry CBD products with you on the plane. It's best to leave products such as vapes at home since smoking isn't allowed on airplanes.

Remember to research the type of CBD your products contain. As long as you know state laws and have broad-spectrum CBD products, you're good to go!
Safe CBD Products You Can Travel with
Need a little help with the type of products you can carry with you while traveling? Check out our top recommendations below:
Full-Spectrum CBD
Unlike regular CBD products, the SUPA Naturals Full Spectrum CBD Oil contains a few other compounds like terpenes and even a small amount of THC. This mint-flavored CBD oil contains around 2000 mg of full-spectrum CBD. It is extracted from the hemp plant and contains no added chemicals like solvents or metals.


Each bottle contains 1 oz of full spectrum CBD oil, coconut oil, hemp seed oil, and natural flavoring. It comes with a handy dropper to avoid any mess. You can either place a few drops under your tongue or use some in your beverages.

Using this full-spectrum CBD oil has many benefits. It may help ease anxiety symptoms and help you feel more relaxed during your travels. This product may also help reduce the effects of migraines and aching joints.
Broad Spectrum CBD
Broad-spectrum CBD is a great choice to carry while traveling as it does not contain any levels of THC. This is what sets it apart from full-spectrum CBD, which may contain small amounts of the compound. However, other compounds are still included in broad-spectrum CBD oil, such as limonene and cannabinol.

This WellPUR Organics Premium Broad Spectrum Hemp Extract is not only THC-free but also rich in antioxidants. It contains 1000 mg of CBD extracted from organic hemp plants. What sets this product apart is the purification process it goes through to ensure quality.


It's a great product for people that want to start using CBD products but don't know where to start. You can take this tincture orally or mix it in your favorite food. It has a light coconut flavor that isn't too strong.
CBD Gummies
If you're new to CBD and not too fond of tinctures, try out these delicious CBD gummies containing 25 mg of CBD Each. Gummies are also easier to carry when traveling.

We love the pHat Bottom Labs Full-Spectrum CBD Gummies. They have a delicious sugar coating that makes them go down a treat. These gummies contain full-spectrum CBD, with a small amount of terpenes and other compounds. Rich in antioxidants, these gummies can also help improve your skin.


Another plus is that they have delicious and natural fruit flavors. The gummies are also perfect for the holiday season and can help you de-stress. Carrying them with you on a plane and popping a gummy in if you feel nauseous or anxious shouldn't be a problem either. This amazing product can help you relax after a long flight.
CBD For Skin
Remember to pack with you your favorite CBD skincare products. Especially with the holiday season and traveling, you should never compromise your skincare routine. CBD has ample benefits when it comes to the skin.
This Hemp Essence Bloom Revitalizing Hydration Serum is what your skin needs this holiday season. It contains 150 mg CBD along with hemp terpenes. These ingredients are anti-inflammatory and can help reduce painful skin flare-ups. If you have acne-prone skin, this product can soothe any redness or bumps.
This serum also contains hyaluronic acid, which helps the skin retain moisture. Winters tend to dry out the skin, but this product can give you a flawless, glowy complexion. Not only does this product protect your skin barrier, but it also reverses any damage caused by free radicals. You can also consider this a great Christmas gift for a loved one.
Beat Winter Stress With CBD Products 
Wondering how CBD can help you beat winter stress? Research shows that CBD products like tinctures and gummies may help relax the body. Just like a calming lavender bath bomb, CBD can help you release any tension.

If you suffer from chronic pain, using CBD products can also ease the pain. Long flights can trigger inflammation in the body, so why not try our CBD products for relief?

Lastly, it can be a good way to deal with jet lag since CBD is known to help with sleep disorders.