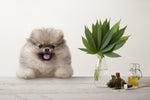 Our pets are an important part of our lives. They deserve the best care, and only we can make it happen. When we are so careful in selecting their food, why not be extra vigilant about their supplements too?

When it comes to high-quality supplements for dogs, we cannot ignore CBD and its amazing list of benefits. CBD oil is an all-natural supplement that can help keep your dogs anxiety, immune system, and overall health in check. It is easy to use and safe.

This article mentions some of the best CBD oils for your pets. If you're still skeptical about introducing CBD to your beloved pet, keep reading to learn more about CBD supplements and why you should give them to your dogs.
Is CBD Safe for Your Dogs?
Studies show that CBD is, in fact, safe for dogs and highly effective for their health as well. It can positively affect your dog's mental and physical health.
Since dogs are more likely to face joint problems over the years, CBD can improve recovery. They also tend to get anxious, especially if they've faced trauma in the past. CBD oil can help your pet live a painless, healthier, and happier lifestyle.
However, we suggest always consulting your vet before using CBD for dogs.
Not all dogs may react to CBD the same way. Some pets may have underlying conditions, age factors, and other health problems that make CBD unsuitable. Discussing with your vet beforehand will make you more confident about giving CBD to your pet pooch.
Dosage
Research also shows that the ideal dosage of CBD for dogs depends on their weight and size. You should give your dog around 2 mg of CBD oil per kg of their weight. Most CBD tinctures come with a dropper that makes it easier to measure it out.
Benefits
There are ample benefits of using CBD oil for your pets. One of these benefits is joint pain relief, which one in every five dogs faces. Joint pain can make it harder for them to walk or even get up, especially when they start aging. The right dosage of CBD has shown impressive results in helping your dog deal with joint pain and live a more independent life.
CBD oil may also help to keep your dog's immune system in check. Here are just some other benefits of using CBD for dogs.
Increases appetite

Helps with sleeping patterns

Eases anxiety 

Keeps them relaxed

Alleviates joint pain
Side Effects
There may be side effects to giving your pet CBD oil, but it varies from dog to dog. Some side effects of CBD oil for dogs may include:
Drowsiness 

Nausea

Low blood pressure

Dry mouth
Top Product Recommendations
Now that you've gotten a green signal from the vet and are confident about giving your dog this miracle supplement try out some of these amazing products we recommend.

Aviator Farms - Copilot Pet Care Hemp Oil
The Aviator Farms Capilot Hemp Oil is just what you need if you have an anxious pet. Some dogs tend to get anxious around loud noises or even other dogs. Using this oil can help ease their anxiety naturally.


Flavored with smoky bacon, your pet will love consuming this hemp oil. Add it to their meals or apply a couple of drops under their tongue. Each bottle contains around 1000 mg of hemp extract. The handy dropper bottle allows for a mess-free experience. This hemp oil is made with human-grade ingredients that can keep your furry friend happy and healthy!
WellPUR Pets - Pet Hemp Extract Broad-Spectrum CBD Tincture
This CBD tincture is formulated using organic hemp and contains no THC. The 1000 MG broad-spectrum CBD extract can keep your pet's anxiety at bay. It also helps with joint pains and sleeping problems in dogs.

Since the WellPUR Pet Hemp Extract CBD Tincture doesn't have any flavor, it blends well with your dog's food. This company carefully tests each bottle to ensure its CBD content. It is also eco-friendly and doesn't contain any harmful chemicals or pesticides. What's even cooler is that this product is completely vegan and gluten-free. In fact, you can enjoy it along with your pet!
Naternal - Pet CBD Tincture
This versatile CBD tincture is perfect for dogs, cats, and even birds. Many CBD oils contain extra ingredients, but this one is all-natural without any added chemicals. There's no need to worry about additives or flavorings when it comes to Naternal Pet CBD Tincture.


Our pets are our love and joy, so why not give them the care they deserve? The hemp extract is mixed in with coconut oil which is nutritious and keeps your dog's breath fresh. Give this oil to your furry friends twice daily for the best results.
My Kure - Pet Kure Organic Broad-Spectrum Pet Tincture
My Kure has a range of oils designed to keep your pets healthy. This Pet Kure Oil is made with 100% USA-grown hemp and keeps your dog calm. If your pet has car anxiety, this oil can relax their nerves and reduce the chances of car sickness.
Each bottle contains 1000 mg of CBD extract and no THC at all. Measure 30 drops and put them underneath your pet's tongue. If your pet is fussy, you can mix this oil in their meals. This versatile oil is great for both you and your pets.
Noetic Neutraceuticals - Morgan's Magic Pet Tincture 
Give your four-legged companion the best care with this truly magical pet tincture. The Noetic Nutraceuticals Morgan's Magic Pet Tincture contains hemp oil and other amazing nutrients, perfect for your dog's health.


It includes grape seed oil which is rich in oleic acid. Such fatty acids are known to improve cognitive function in dogs. The combination of CBD extract and fatty acids is also beneficial for dogs with achy joints. You can use this supplement daily for your furry friends. Just add one dropper full to their meals for the best results.
Envy CBD - Pet Tincture
Most pet supplements have flavors our little pals don't enjoy. The Envy CBD Pet Tincture features bacon flavoring that your dogs will lap right up. Every bottle of this tincture contains 250 mg of CBD extract. Using this CBD tincture can help improve your pet's sleeping pattern. Give them this oil during the day to calm their nerves or during the night to help them sleep better. It can also help boost appetite in older dogs.
Your pets will adore its meaty flavor, designed for their wellness. It is mixed with coconut oil to make it digestible for your furry friend.
But here's a reminder: Always ask a vet before using CBD products for your pets.