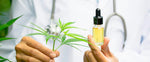 CBD or cannabidiol has recently become a popular solution for many ailments. Unlike its other half, THC, or tetrahydrocannabinol, CBD does not cause a person to become high. And this is the reason why it is fast becoming a safe way to attain health without causing any psychoactive activity. CBD is said to help relieve pain, relieve stress and fatigue, and work wonders for many other illnesses.
If you or someone you know does not want to use regular medicines for problems like sleeplessness, arthritis, migraine, or acne, then CBD and its oil may actually be beneficial for you. Here is how you can incorporate CBD into your everyday routine life.
What's CBD
CBD is derived from the cannabis plant, and is a chemical. It has been approved as a drug for people who suffer from seizures. But this is not the only thing that CBD is used for. It is now commonly used for other ailments like pain, migraines, arthritis, stress, skin conditions, and mental diseases like depression. It is also used for anxiety, Crohn's disease, muscle disorder dystonia, and even Parkinson's disease. Remember that most CBD present in medicines is in the form of prescription drugs.
How to take CBD
CBD is used in various ways, but the most common one is CBD-infused oil. It is added to various supplements, creams, serums, and even skincare/haircare products. You can also directly take the oil on your tongue, in your foods or drinks. Another efficient way to take CBD is through inhalation, either through a vape cartridge or an essential oil diffuser.
If you have never taken CBD and aren't sure how to make it a part of your routine, here are some easy ways to add it to your day without seeming too overwhelming.
Oral Products
When it comes to oral ingestion, CBD oil can either be poured directly under the tongue, added to your food or drink, or can be taken in the form of CBD oil supplements. You can take it as per convenience. Some of the best available oral CBD in the market are listed below.
Aviator Farms Sunshine Signature Hemp Extract is made from all the natural ingredients. It tastes like citrusy, floral tones, and goes down smoothly without the sensation of bitterness. If you have never used CBD before, start slow and take only 1000mg tincture first.
You can increase it to 2000 the next week, and 3000 the week after. You will witness the beneficial effects within a week of using the tincture.
Natural Wealth CBD Oil is another option to consider. The formula is especially designed to help you relax and unwind after an exhausting day. It is free from THC, GMO, and Gluten and is vegan-friendly.
You can take it with food or your drink. ½ a dropper is enough for one day. It is available in 3 dosages, 500, 1000, and 1500 mg.
pHat Bottom Labs CBD Full Spectrum Gummies are one of the yummiest treats for those who want to make CBD a regular part of their diet. Made from natural fruit flavors, these gummies are non-GMO and contain all the goodness of hemp's original phytonutrients, terpenes, and antioxidants.
You can take 1 to 2 gummies per day.
Press Pause Dream CBD Night Tincture is another oil that you can opt for. It works particularly well to help you sleep, even in noise or with a snoring spouse. It will help you get the restorative sleep you deserve after a tiring day. The tincture is Non-GMO, vegan, and gluten-free.
Take one full dropper and pour under the tongue, hold for 60 seconds and then swallow. Make sure you take it 30 minutes before bed for it to work effectively.
Topical Products
More inclined towards topical CBD products? Here are your top options:
HOO RAA Simply the Zest is what you will need at the end of an exhausting week. This soothing potion will melt all your pains and worries away, taking with it the stress you incur each day. The exotic grapefruit citrusy point is just the solution to your tiredness.
Simply sprinkle half the packet in your bathtub and relax with a glass of wine. Be sure to soak for 30 minutes at least to discover its true magic. It contains 100mg CBD isolate, and is vegan and Non-GMO.
Keen Organics Brand CBD Tension Balm + GuaSha Stone will take you by surprise. The cream with its special massager is going to take away all the pain that is often ignored. It will reduce muscle strain and tension while also calming your nerves.
All you need to do is apply a small amount of the balm to the affected area and rub gently with the massage stone. Repeat for 20 seconds and then feel the change.
EyeDentify - Muscle Rub comes with CBD and CBG that erase pain like it was never there. The formula is made such that it penetrates deep into the muscles and helps provide relief quicker than you think 'pain'.
It also contains the goodness of aloe and menthol for better results.

How Much CBD To Intake
 If you aren't sure how much CBD you should take in a day, start by taking only 10 mg a day. Increase it to 20 mg and then more. You can easily go up to 1500 mg per day to attain the best effect of the oil. If you are still not okay with taking CBD on your own, talk to your medical health practitioner for guidance.