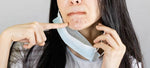 Although we're trying to adjust to our 'new normal' with masks and face coverings during the wake of COVID-19, skin irritation and breakouts shouldn't be settled for.
Unfortunately, many people with sensitive skin have to deal with skin-sensitizing impacts of wearing masks and other personal protective equipment. And when we say 'maskne', we don't only mean acne caused by wearing a mask. It is an umbrella term for various skin problems that can be caused by covering the face.
Here's the good news:  you can now try out some amazing products to protect and clarify your skin from mask-related skin conditions. This article will break down the best CBD-infused products to take care of your skin against maskne.
NUYU Cleansing Face Wash
If you have to wear a mask for prolonged hours, it is best to choose a face wash that thoroughly cleans clogged pores and prevents skin problems. The NUYU Cleansing Face Wash is a botanical product with 100mg CBD that promises to clean pores, clear acne, and work as an anti-aging agent for your skin.
This product works like magic for acne-prone skin and is one of the healthiest, most effective remedies to achieve clear and healthy skin again. Benefit from the natural and CBD-infused face wash and keep maskne at bay.
Crappy's Feel Better Hemp Co. – Skin Stuff Natural Soothe & Repair Salve
Crappy's Feel Better Hemp Co's Natural Soothe & Repair Salve is more than a skincare product. It is a skin treatment that instantly soothes irritated skin and repairs skin problems, such as maskne. If wearing a face mask all day long taking a toll on your sensitive skin, this product can come to your rescue. Just as the name suggests, this natural salve will have your skin feel better again by putting an end to bumps, rashes, scrapes, burns, and dried-out patches.
Blessed with the benefits of CBD, the fragrance-free product has a creamy texture that doesn't feel sticky on the skin. A little goes a long way and can be used on-the-go. Don't let your sensitive skin suffer maskne by keeping this product handy.  
Keracell CBD Soothing Daily Facial Moisturizer
The Soothing Daily Facial Moisturizer by Keracell is a THC-free formula and is an excellent product that protects skin against daily environmental stress. Since maskne is becoming the latest skin problem for people, this daily moisturizer can keep skin problems at bay while maintaining the suppleness and natural moisture of the skin.
Infused with a variety of natural ingredients, such as vitamin c, vitamin B5, and vitamin E, the moisturizer promotes microbiota balance, addresses discoloration, and reduces transepidermal water loss. The soothing daily moisturizer is formulated with certified organic hemp seed oil, and CBD isolates to activate cell vitality and keep your skin fresh and healthy all day long.
Envy CBD – Premium CBD Face Cream
Maintain your skin moisture and elasticity and use the Envy CBD Face Cream as a protective barrier for your skin. Besides stimulating your facial muscles and increasing circulation, the premium CBD face cream can energize your skin's overall appearance.  Take self-care to another level, especially if you're experiencing maskne, with this vitamin-rich, organic face cream that soothes the skin and brings back the natural radiance.
Each jar contains 100mg of full spectrum CBD and a variety of essential vitamins to reduce puffiness, redness, and inflammation while softening the skin. It is also rich in antioxidants that help with reducing the appearance of acne, dermatitis, and psoriasis. Use in place of your daily moisturizer or night cream, and notice the difference yourself.
LUXU Ultra Care Overnight Mask
Designed to help beneficial ingredients penetrate deeper while you sleep, an overnight mask works as a skin sealant and a barrier. A light coating of the LUXU Ultra Care Overnight Mask helps your skin get rid of dust and dirt by closing in on your pores and lock other active ingredients, such as CBD. Using this overnight mask regularly will help you prevent maskne and let all the goodness work more effectively without evaporating away.
The concentrated mask is formulated with anti-aging, high-performing ingredients to hydrate, rejuvenate, and restore skin texture. Since it's a leave-in treatment, you can expect elevated results even if you have to wear a mask all day long.
Spectra Cosmetics Radical Change CBD Infused Liquid Foundation – Light
You could be wondering how does cosmetics help prevent maskne. Well, this isn't a regular foundation. Spectra Cosmetics Radical Change CBD Infused Liquid Foundation is a revolutionary product that's a perfect example of cannabinoid science and cosmetics. The active ingredients help balance out complexion, give your skin a protective layer, help eliminate acne, signs of aging, and other skin problems.
The cruelty-free, paraben-free foundation has a semi-matte finish that leaves a radiant effect on your skin. It promotes a healthy complexion and is a perfect base to apply the rest of your makeup.
Half Hippy Drippin' Gold CBD Restorative Facial Oil
You need this product whenever your skin needs extra healing, calming, and regeneration. This miracle product is formulated with a variety of excellent ingredients to offer anti-inflammatory benefits and prevent maskne and targeted acne. The Drippin' Gold CBD Restorative Facial Oil by Half Hippy is a skin treatment that delivers powerful regenerative and healing properties.
Infused with high-quality, THC-free CBD, the easy-to-absorb oil has skin-calming properties known to soothe inflammation, treat eczema, rosacea, and psoriasis. Massage directly over clean skin for the best results.