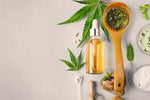 Did you know more than 60% of CBD users were taking it to combat anxiety and stress?
These days, stress has become inevitable. It can be a real killer, whether related to our regular day to day lives or our demanding work schedules. And while stress serves a significant purpose in human biology, our fast-paced and modern lifestyle has created a surplus of stressors that could haunt us till we give up.  
Unfortunately, stress and all those symptoms that follow are still considered taboo. People are dealing with it even without knowing it, which allows it to take a toll on one's life. This is why Stress Awareness Day was set aside to bring more awareness on the severity of the condition and how it can compromise one's quality of life. It is a day dedicated to understanding stress, finding out the causes, and learning how it affects us.
CBD Claims for Stress Relief
CBD is popularly advertised as a relief for depression, anxiety, and post-traumatic stress disorder (PTSD). The lesser-known child of the Cannabis Sativa plant, CBD, has been in the limelight for various health benefits as it purports to be 'nonpsychoactive' – meaning consumers can use it to reap health benefits without getting high.
Research concludes CBD can help you manage stress and anxiety. It has the potential to alter the way your brain receptors respond to serotonin. Other earlier studies carried out on animals proved that CBD could be used to relieve anxiety by:
Eliminating or reducing stress
Improving symptoms of PTSD
Decreasing physiological effects of anxiety, including elevated heart rate
Inducing sleep in case of insomnia caused by anxiety and stress
This National Stress Awareness Day, we would highlight our top CBD products that could definitely make a difference to your overall mental health and quality of life by helping you manage stress. Keep reading.
The Sunflower Queen Lavender Sleep CBD Roll-On
The all-natural lavender-scented roll on with CBD is an excellent product to help calm the mind and body. The Sunflower Queen Lavender Sleep CBD Roll-On contains 100mg of Full-Spectrum CBD Distillate, which works like magic to induce sleep and help you relax your mind. Additionally, the formula contains various other organic and kosher ingredients to augment the effectiveness.
The roll-on is easy to apply and boasts calming essential oils of lavender, ylang-ylang, chamomile, bergamot, and rose to make it an ideal blend that improves your sleep quality and keeps you stress-free all day long.
For All by J+ P Beauty Body Calm Jasmine + Sea Salt Bath Soak
Make bathing time more calming and relaxing by adding this wonderful bath soak with plenty of benefits to your tub. The Body Calm Jasmine + Sea Salt Bath Soak by For All Beauty features a delicate jasmine scent and beautiful Himalayan Sea Salt to aid in soothing and relaxing the skin. But what's more interesting is that the bath soak is also enriched with the goodness of CBD.
Taking a dip in warm water after a long and tiring day is an excellent way to reduce the feeling of fatigue. And if you add these bath salt in the warm water, it will further help reduce stress and boost your emotional well-being.
Terra Vida CBD Anti-Stress and Relaxation Oral Spray
Oral use of CBD is considered the fastest and most effective method to calm the mind and keep stress at bay. The CBD Anti-Stress and Relaxation Oral Spray by Terra Vida is an excellent blend of CBD and various other organic ingredients to help with stress. If you need instant relief, this is the solution for you.
The quick oral absorption of CBD and other nutrients in the spray makes stress manageable. For best results, spray six times directly in your mouth under the tongue. Hold for a few seconds before swallowing. Adult supervision recommended for people under 18 years of age.
Crappy's Feel Better Hemp Co. Chill Out 25 Chewable Hemp Tablets
Time to chew away your stress and unwind with this outstanding CBD infused product called Chill Out by Crappy's Feel Better Hemp Co. This one's a straightforward product and does exactly what it says: helps you Chill Out! Find your happy place and shake out your stress with chewy tablets that would get into action right away.
The exciting blend of CBD, CBN, and CBG is an effective way to take the load off and help you chill out. Take one tablet as needed. Do not exceed two tablets.
Beselan Botanicals Calm Massage Oil
The multipurpose, luxurious body oil soothes your skin against irritation, itching, and redness and helps with anxiety and stress. The lasting calm impact of the Calm Massage Oil by Beselan Botanicals takes the burden off your mind boosts the production of cortisol in your body.
The CBD infused formula creates calm with the relaxing effects of herbs and essential oils, including lavender, chamomile, immortelle, and more. Enjoy the luxurious feel of the oil on your skin and experience ultimate calmness with full-spectrum hemp oil.
Errbshop RB + Lavender Massage Oil Candle
And if the idea of consuming CBD or applying it on your skin doesn't work for you, then get your hands on this signature CBD candle that would blow your stress away. The Errbshop RB + Lavender Massage Oil Candle feature low-potency CBD and is excellent for people trying CBD for stress relief for the first time.
The candle features five different scent variations and comes in a travel-size convenient tin to keep it drip-free. Just light up your space with this unique CBD-infused candle and invite peace and calmness with the gentle aroma of lavender.