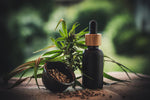 Summers are meant to bring joy, outings, and a fun vibe to your otherwise boring routine. It involves a lot of beach parties, adventures in the sun, and more exposure to UV rays. Even though summers may bring along festivities, it may not be the best time for your skin. Scorching heat, excessive humidity, and unwanted tanning need to be avoided, and your skin should be given the protection it is begging for. CBD can help you with all the above and more. It works better and more efficiently than most other chemicals combined.
If you have never used skincare products with CBD, this summer is your chance to begin and experience the joys of skin that glows from within. Here is what you need to do to keep your skin healthy, fresh and alive.
Igniting the Glow from Within
 Of course, products that you apply to the skin matter and make a difference, but what is even more important is what you put inside the body, and the nutrition you take. This hot and humid season, make sure you load up on liquids as the less hydrated you are, the more your skin will deteriorate. Also, include water-rich foods like melons, cucumbers, watermelons, etc. These would keep you full and up your water intake.

If you want to give yourself something extra, try the Press Pause - GLOW CBD Care Capsules, as these will help heal your skin and ensure it remains top-notch no matter what the heat is like.
These full-spectrum CBD capsules can miraculously bring back the glow with regular use. Take one capsule a day, with or without food, and you are good to go.
Balancing Skin pH
A crucial part of skincare that most people are not bothered about is balancing skin pH. This is because not many people understand that basic nature of toxins accumulate over the skin and cause significant damage over a period of time. If these harmful substances are not removed, they can lead to wrinkles, age spots, and could even cause some serious medical conditions. Hence, you must include products that clean the skin and balance its pH.
Many products can help you neutralize the skin. One such item to add to your routine is the STEAM - Power Full Body Wash. It does not just get rid of dust and grime, but the activated cannabis helps get rid of free radicals and pollutants.
This is what keeps the cells healthy and happy. Use it like any regular body wash. Apply to wet skin, lather into foam and rinse off for the best results.
 Serums and Mists to the Rescue
You must have heard your friends or people around you gush about the benefits of facial serums and mists. They help keep your skin hydrated and fresh and work at a cellular level to improve the skin's condition. Mists also help fix discoloration, acne marks, dry patches, and dullness. You will be surprised by how quickly they help restore beauty to your facial skin.

If you have never used mists before and wonder which one you can incorporate in your daily routine, try the l i b e r a t e - CBD Glow Face Mist. Choc full of antioxidants, vitamin E, hyaluronic acid, and the goodness of CBD, this serum will hydrate, tone and remove all kinds of anti-inflammatory substances off your face.
You can spray it before going to bed, in the morning, or even after applying your makeup. It will bring out the glow from inside.
Hydration is Key
 There is nothing more important than to keep your skin hydrated. No matter how many products you apply or what diet you follow, if you do not drink enough water or use a hydrating moisturizer on your skin, you will never attain the beauty of youth. This is why all experts strictly emphasize the regular use of moisturizers. They help your skin like water helps your body. Your skin will remain young and fresh so long as you put on the right moisturizer.
Green Bee Botanicals Quench Moisturizer is an ideal choice, no matter what skin type you have. Enriched with antioxidants, minerals, CBD and vitamins, this moisturizer also contains the goodness of rosehip seed oil, mango and borage butter, and other ingredients that would improve your skin condition.
All you have to do is apply it to your face during your morning and night routine. You can also apply the cream to your hands to make them softer and prettier.
Mask to Model Overnight
This may sound like an exaggeration, but you will be surprised by how true it is once you regularly use masks in your skincare regimes. Masks left overnight are particularly beneficial as they get a long time to work their magic while you take your beauty sleep. Just make sure to read the instructions properly before applying them.
If you haven't used night masks before, try the No Thank You A Mask For Night. Containing the goodness of coconut water, niacinamide, Manuka honey and CBD, this mask works on the cellular levels of the skin, repairing and beautifying from within.
It will improve the skin's clarity and help get rid of other skin issues like acne, dullness, blackheads, and wrinkles. You have to shake the jar well, apply it to clean skin, and massage in circular motions. Leave it on for the night and see the magic happen.
These small but noticeable additions to your nonexistent skincare routine can create major game changers to your dry, flaky, or spotted skin. The one thing you must understand is that skin conditions do not disappear overnight. To see any noticeable difference, you will have to make a routine and stick to it for at least 2-3 months. So pick out the products that best suit your concern and watch how CBD transforms the glow of your skin. Good luck!