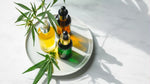 Thanks to the growing awareness of the benefits, CBD products are everywhere. You can find cannabidiol in the form of capsules, oils, gummies, and almost all kinds of skincare products. But to experience enhanced CBD benefits, consider combining them with other wholesome, natural ingredients.
The good news is that you do not have to do this manually. There are some outstanding CBD products available infused with the goodness of rose. Here we talk about our favorite variety that you shouldn't miss out on.
SHE BIOLOGY – Superfood Rosewater Essence
With hyaluronic acid also being the talk of the town in the skincare industry, this super-blend of Superfood Rosewater Essence by SHE BIOLOGY is a must-have. The perfect combination of rose water, CBD, and restorative herbs prep skin for maximum absorption of the skincare products that follow. On its own, the product plumps and moisturizes and treats your skin with triple-action hydration.
By activating your skin cells, the product makes your skin more flexible in responding to treatment and returning to a state of balance. Experience maximum hydrating, toning and balancing with this outstanding CBD and rose-infused product that's also enriched with the benefits of hyaluronic acid. This one is a must-have in your skincare collection.
Hempful Farms – Face Serum
Products under this banner need no introduction. They have the best CBD range for humans as well as for pets. But this particular product had our attention for the amazing benefits it has to offer. The Restorative Face Serum has all the hydration your skin needs to look fresh and supple. It's best for lips and eyes but also works for the rest of the face.
Infused with rose geranium oil, carrot seed extract, lavender oil, and almond oil, among other amazing ingredients, the serum will restore the brightness of your skin with regular use.
Errbshop rb + rose/sage massage oil candle
This unique Errbshop rb + rose/sage massage candle oil will amaze you with the results. What looks like a simple candle is a potent skin care product infused with the goodness of CBD and other wellness ingredients. The multifunctional product offers tranquility and a sense of calm with its aroma when lit. But once the liquid is melted, it can be poured out and massaged on your skin to achieve optimal hydration and a radiant glow.
The tin package is convenient to carry and keeps the oil contained. It also features a drip-free pour spout to access the liquid easily. Featuring anti-inflammatory full-spectrum CBD and delicate rose and sage leaf, this candle deeply nourishes your skin, works on the aging signs, and leaves a smooth appearance.
Leanna Organics – CBD Body Cream in Red Rose
A buttery body cream is what you need to say goodbye to flaky and dry skin. Leanna Organics CBD Body Cream in Red Rose is a thick organic blend you cannot miss. It's the perfect moisturizer for your whole body, leaving your skin soft and smooth with every application.
Feel fresh, thoroughly hydrated, and smell great with our favorite red rose variation. Other fragrance option includes mango, chocolate coffee, and pineapple deluxe. You can also opt for a non-scented version to efficiently fix your dry and itchy skin.
The Sunflower Queen – Rose Comfort CBD Roll-On
Keep a check on your emotional and mental well-being with the Sunflower Queen Rose Comfort CBD Roll-on. Featuring full-spectrum CBD distillate, this magical product is designed to calm your nerves and relax you through all emotional and physical symptoms. The rose-infused CBD product is specially designed for women and includes a range of essential oils associated with women's health.
Enriched with the goodness of several mood boosters and pain suppressors, this roll-on is the best comfort you can get during your cycle. Use the roll-on for easy application on your feet, shoulders, neck, wrists, or any affected area for the best results.
l I b e r a t e – cbd glow fist mist
Another outstanding product on our list is this cbd glow face mist by l i b e r a t e. Not only does it include the benefits of hyaluronic acid, vitamin E, and antioxidant-rich adaptogens, but it is also infused with rose water for enhanced benefits. The easy-to-apply face mist is an excellent CBD skin care product that will transform your skin completely.
The vegan-free formula has anti-inflammatory benefits that bring back the glow for instant hydration. Use it as a part of your skincare routine or set your makeup with this face mist; you will never be disappointed with this amazing product that promises to liberate your skin.
Press Pause Project – SIP Harmonizing CBD Bloom Tea
The best way to deal with heavy shoulders and a cloudy brain after a long day is to sip on your favorite beverage. Time to introduce this unique blend into your life that will instantly take your stress away and introduce a whole new experience of tranquility.
A cup of this rose, lavender, hibiscus, and rooibos concoction with CBD will enlighten your taste buds and let you bloom. Press Pause Sip Harmonizing CBD Bloom Tea is your ultimate herbal blend with natural flavors that you need before bedtime to unwind and enjoy a blissful sleep.
Envy CBD – Essential Oil Roll-On (Focus)
 Tired of missing out on your goals and deadlines? Can't remember the details of the project you've been working on? Cannot focus, regardless of how hard you try? If that sounds like you, try the Envy CBD Essential Oil Roll-On right away. This product is your best bet if you lack focus and can't find the motivation or energy to indulge in activities.
The blend is infused with the goodness of CBD and rose essential oil to help you wash away the feelings of anxiety. Clear out your head with this simple product so you can focus again. Enjoy improved wellness by applying to targeted areas with a little pressure.