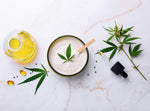 It is 2020 and if you are not dropping CBD-infused oil in your morning coffee, slathering CBD cream on your face, or taking a CBD supplement before going to bed, then you are really missing out. You can find hundreds of CBD products on Amazon. The product line up consists of fancy face lotions, expensive tinctures and overpriced bottle of CBD supplements. However, Amazon's guidelines prohibit the sale of CBD and cannabidiol infused products. So most of the products you find aren't the real deal. So, where do you find the real CBD products? Right here. At Neomen, you will find all the recently launched CBD products from name-brands. From skincare kits and soothing salve to pet treats and PMS relief CBD products, here are 10 best CBD products that are just launched but are already a customer-favorite.

#1: The Global Award-Winning CBD Tincture By Relyf

There is a reason why this CBD tincture won the award. Relyf Premium CBD Tinctures are infused with MCT oil for maximum efficiency and contain less than 0% THC. Made from the highest quality CBD isolate, Relyf's 500mg THC Free CBD is delicious, safe, affordable, easy to use and legal. Each CBD tincture contains 30 servings. Can be taken sublingually at day or night. The CBD used is sustainably grown right here in the USA without any pesticides and contains no heavy metals. Each and every product that leaves the facility is third-party tested to ensure consistency and quality.

#2: Ladies, This If For You!

Before you fall in love with the product itself, you will fall in love with the sunset hues of the bottle. Flow Lite CBD Capsules is infused with 15mg of CBD blended with other anti-inflammatory ingredients including turmeric and ginger to help women with PMS and menstrual cycle symptoms. CBD for periods? Yes, CBD works great for soothing period pain. Actually, there are very few CBD products available in the market that are targeted to help women during their periods. Maxine+Morgan Flow Lit is one of those, and quite an effective one we must say. This OB / gynec formulated capsules are safely manufactured, non-GMO, gluten-free, kosher and vegan.

#3: Recover Better, Recover Faster

Are you still using your old pain relief balm to alleviate physical discomfort? CBD pain relief salves are the new favorite these days. Loved by the athletes, fitness enthusiast and anyone who is dealing with pain, Bèselan Botanicals Soothe Salve helps to relieve, ease and soothe the pain. The smooth gliding formula soaks easily into the skin and leaves it feeling healed as well as nourished; because when life gets rough, your skin doesn't have to. It works excellent for the skin and the muscles beneath it. Our soothe salve is formulated to control breakouts, fight inflammation and defend your skin against harmful free radicals. If life's aches and pains are getting to you, look no further. Whether you want to recover from a hardcore workout or just want to support healthy joint function, this salve is a must-have.

#4: Heal On The Go


All the amazing benefits of CBD packed in this portable little bottle. Perfect for anyone on the go, Relyf Cooling Roll-On can help you deal with a tiring workout, back pain because of a 9-hour shift and a whole day on your feet. The easy to use roll-on provides targeted and cooling relief for whenever you need it the most. It is a powerhouse combination of 300mg of high-quality hemp and cooling menthol. Just like every Relyf product, the hemp used in this roll-on is sustainably grown in the USA without the use of any pesticides.

#5: A Gentle Massage For The Sensitive Beings

Another gem from Bèselan Botanicals. Using Bèselan Botanicals Pure Massage Oil instead of your regular massage oil can completely transform your massage experience. Infused with coconut, it doesn't just soothe but also deeply nourishes and moisturizes your skin; it's like a spa or complete skin treatment. And the best part? This body oil is formulated for ultimate hydration and relief without aromatic essential oils for sensitive skin. Herbal fragrances make anyone feel good, but not everyone. Whether you are someone with sensitivities to powerful fragrances or are just going fragrance-free, Pure massage oil is perfect for you. The massage oil cum moisturizer cum skin tonic will help you relax and rejuvenate without irritating your sensitive skin and nose.

#6: A Therapy Session For The Stressed Skin

Envy's Face Mask combines beauty and skincare together for both ultimate convenience and efficiency. This 3-Pack Face Mask contains Full Spectrum CBD along with licorice root extract, rosemary flower extract, centella asiatica extract and green tea leaf extract to soften the face, preserve the natural beauty, and protect against the natural progression of age. The do-everything face mask can also be used for pain and inflammation relief, relaxation, anxiety relief and as a daily moisturizer. Intended for use on all skin types, this 3-pack face mask is infused with 10mg CBD with 30mg full spectrum CBD. CBD face masks usually costs a pretty penny as CBD is an exclusive and expensive ingredient, but not this one. So, there is no reason not to give it a try.

#7: The Secret To A Smoother, Brighter Complexion

Cleanse, moisturize and nourish your skin in one easy step. The microbeads infused in this sulfate-free cleanser gently yet thoroughly removes makeup, dead skin cells, oil and dust collected during the day. See effective results immediately as this sulfate-free, polishing cleanser travels deep into pores to remove the impurities & helps condition the skin, leaving it radiant. Balancing probiotics & antioxidants encourage smoother, brighter, more even skin tone. The nourishing ingredients ensure that you get all the benefits of cleaning without moisture loss or dryness. Just one cleanse two times a day at will keep your skin healthy and cleansed. Oops! We have now let the secret of glowing skin out, don't tell anyone.

#8: Your Skincare Regime Sorted

Get the KUL Glow at one radiant price. It is the ultimate skincare kit by KUL CBD contains the holy grail CBD skincare products. A perfect addition to any skincare routine, KUL's Glow Kit synergistically combines our scientifically formulated beauty line so you can glow all day. The kit includes five uniquely powerful products to cleanse, moisturize, nourish, repair and rejuvenate your skin. First: cleanser. To remove the dirt and oil collected during the day. Second: moisturize. Although the cleanser itself helps to moisturize, the lightweight moisturizer provides your skin with anti-aging benefits. Third: Serum. The smoothing, firming and calming ingredients adds extra nourishment to your skin. Fourth: Night Repair Moisturizer. Because if you aren't applying anything on your skin at night, you are missing a big step in your skincare regime. Fifth: tincture. The powerful blend of blend of 800 mg of Full Spectrum CBD provides great healing benefits to your skin. With these 5 products included in your skincare routine, you would need absolutely nothing for your skin!

#9: And You Thought We Forgot Your Pet

Relyf's premium Pet CBD Oil is the perfect remedy to calm and soothe your little furry friend. It's non habit forming, safe, premium quality and a must-have addition to your pet's health routine. Safe for all sizes of pets, this CBD oil can either directly added to their food or can be topically applied. Affordable and easy to use, our CBD oil for pets contains 30 servings and can be given at day or night. Not just for dogs, this oil also works great for cats and farm animals such as horses and pigs. As it is a Relyf product, the hemp used is sustainably sourced and naturally grown in USA without the use of pesticides.

#10: A Tasty Treat For Your Little Furry Friend

Calming your pet is now easier than ever with these all-new bacon-flavored CBD Pet Treats. Each treat combines simple ingredients and 5MG of Full Spectrum CBD to deliver a quick-and-easy alternative to relief. If your four-legged friend is too fussy and does not consume CBD directly or in food, these CBD treats are a perfect choice. Your pet will beg to have one! These heart-shaped treats are perfect for the restless sleepers and pups that get too anxious when they see too many people around. They are perfect for giving your pets the benefits of CBD without having to force oil or tinctures in their mouth.