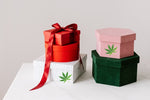 Red roses, chocolates, fragrance, and cute stuff toys – why does Valentine's Day have to be all about these things only? While you can surprise your loved ones with a combination of these popular Valentine's Day gifts, you can always go the extra mile and get the best, most therapeutic, and relaxing CBD products to make their day more memorable.
This Valentine's Day, give your special someone a gift of experience with different types of miraculous CBD products that can change their life. Thinking about where to start? Don't worry because we've got you covered. This article will reveal the best CBD Valentine's Day gift you can pick this year for your loved one.
Soothing Scented Massage and Fragrance
Errbshop rb+ Rose/Sage Massage Oil Candle
With more than 120mg of CBD infusion, this is a unique gift that's surely going to surprise your special someone. This product offers an incredible experience by combining the two most relaxing things: excellent fragrance and a soothing massage. And you don't even have to get two separate products for this because the oil released by burning this candle is what you will use for the massage.

Featuring five different scents, the rb+ Rose/Sage Massage Oil Candle by Errbshop is what you need to experience the great benefits of low potency CBD. The candle is designed in a tin pack with a drip-free spout for easy pouring. Pick up your favorite scent and let your loved one enjoy the combination of the most hydrating ingredients.
 Must-Have Masks
L i b e r a t e – CBD Glow Gel Cleanser and Mask
Another product that gives you two benefits! The CBD-infused mask has some of the best ingredients, such as willow bark, activated charcoal, and rosemary for skincare. The healthy is a single product that serves as a powerhouse duo for a healthy glow.

Apply the CBD Glow Gel Cleanser & Mask by L i b e r a t e as per your need and experience amazing skin texture yourself. It definitely makes a great gift for a lover who loves to take care of their skin.
FOR ALL by J+P Beauty
And why just use a mask when you can also use one for your beautiful tresses. If your loved one is all about gorgeous hair, help them enjoy a better hair care routine with this Hair Bliss Hydrating Mask.
This incredible little bottle can bring back life in your hair by locking in moisture and leaving hair feeling shiny, soft, and smooth. Be ready to get a lot of praises if you choose this one as the Valentine's Day gift for her.
Bathing Essentials
Blue Botanicals Jasmine Spirit Bath Bomb
Present your special someone with a gift that no one dislikes – a bath bomb! And it gets even better when it is enriched with the goodness of CBD and essential oils. This Blue Botanicals' Jasmine Spirit Bath Bomb is not only the most relaxing bath bomb you will ever come across, but it also helps stabilize mood an relax your mind.
Let your special one soak into the rich blend loaded with the amazing effects of essential oils and CBD.
Ultimate Relaxation
Resurge Oils – Relax Organic Hemp Extract
Your loved one deserves the most relaxing product to unwind after a long day. And if that's how you're planning to show some love, this is the product to go for. THE Resurge Relax Organic Hemp Extract features the goodness of organic CBD as well as cinnamon and ginger.
The water-soluble CBD oil is consumable and has a tasty flavor so you can enjoy this on its own. Simply applying a few drops of this oil under the tongue for a few seconds before ingesting it can be highly soothing and relaxing. Try this out yourself and see the magic happen.
Thisworks – Stress Check CBD Face Shield
Not comfortable consuming CBD? You can apply thisworks Stress Check CBD Face Shield to your skin and get the same result. This relaxing face mist is enriched with CBD and hyaluronic acid that perfectly hydrates the skin, and works as a protective mask for your face. 
Instead of putting it inside your mouth, put it on top of your skin after your regular skincare and enjoy this lightweight, ultra-hydrating shield. On top of it all, it also relaxes the mind.
pHat Bottom Labs – CBD Full Spectrum Tincture with Lemon 3000mg
Enhanced with the delicious taste of lemon, this one is your best bet if your special someone is already used to consuming CBD. This product includes full-spectrum CBD 3000mg extract for maximum benefits.
The all-natural CBD Lemon Tincture by pHat Bottom Labs is loaded with antioxidants, phytonutrients, and terpenes – all that you need for the health and wellness of your loved ones.
CBD Makeup for Valentine
SPECTRA COSMETICS Radical Change CBD Infused Liquid Foundation Light
What's better than skin makeup that's infused with the benefits of CBD. This revolutionary product will become the ultimate favorite if you present it on this Valentine's Day. The SPECTRA COSMETICS Radical Change CBD Infused Liquid Foundation will make an excellent gift for a makeup lover. 
CBD and cosmetics are making a considerable impact and using a foundation that could offer lightweight coverage while taking care of skincare problems such as acne and signs of aging.
My Kure A115 Pinky Lip Gloss
Give your beloved the perfect pink color to beautify their lips with a product that's enriched with the goodness of CBD and rich pigmentation. With anti-inflammatory, anti-bacterial, and anti-oxidant qualities, this lip gloss will suit all skin colors and types.
The My Kure A115 Pinky Lip Gloss will leave a lasting and stunning rich hue that your loved one can flaunt as you two celebrate Valentine's Day together.