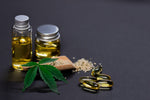 Dealing with dry, dull, and pale-looking skin this winter season? Many people struggle with losing vitality and brightness from their skin during the cold weather. It is primarily because of harsh winds, extreme temperature, and the sharp rays of the sun. The only way to deal with this problem is by using skincare products that keep your skin nourished and protected from inside out.
Not sure what you can do to brighten up your skin? Here are some of the best products that will improve your faded skin appearance within a few weeks of use.
thisworks - Stress Check CBD Skin Booster + CICA Extract
This Stress Check CBD Skin Booster has especially been created to target all the problem areas on your face, whether the lackluster skin condition or the loss of color and vitality. Containing hemp-derived cannabidiol, the serum is meant to show results within a short span of time. It will nourish your skin, make it smooth, bright, and young with regular use.
All you have to do is either apply it directly to dry, sensitive skin, or add it to your moisturizer to gain that calming goodness. The presence of YlangYlang also helps create a sense of wellbeing and serenity.
Liquid Light CBD - Goddess Oil
As the name clearly suggests, this concentrated organic CBD oil is going to change your appearance faster than you can 'wow'. Made with a blend of RSO-CBD oil rose oil and jojoba oil, the lightweight oil is completely absorbed in the skin and works on a cellular level to bring healing, hydration, and restoration to your skin. It is completely free of all paraben, sulfates, silicone, and miner oil, as well as odor.
The Liquid Light CBD Goddess Oil will help brighten up your complexion, reduce fine lines and bumps, and calm any kind of acne you may be fighting with. Just make sure to use it regularly before looking out for significant results.
Soji Health - Facial Cleanser
One of the most effective facial cleansers out there, the Soji Health Facial Cleanser is created from broad-spectrum CBD oil, along with pure plant essential oils. This helps clear all types of impurities, grime, dirt, and dead skin off, leaving your face super smooth, clear, and dewy.
The cleanser is gentle enough to be used by people of all skin types and effective enough to gently erase acne marks, active acne spots, and even fine lines. Simply take out one pump in the palm of your hand and massage over the face. Wash off and apply moisturizer.
li b e r a t e - CBD Glow Hydration Crème
If you are someone who has oily skin that has lost all its vibrancy, then this product is exactly the right one for you. An effective blend of CBD, rice extract, rosemary, sodium PCS and sunflower seed oil, the CBD Glow Hydration Crème helps rejuvenate your stressed-out and tired-looking skin. It helps in bringing back the glow that you once boosted.
This crème is complete free of paraben, GMO, DEA and sulfates. It is fully recyclable and comes with a vegan formula certificate. All you have to do is apply a small amount on your face, neck, and décolletage morning and night to see your brightness and spark return.
No Thank You - An Oil For All Day
Another moisturizing oil on the list is the No Thank You An Oil for All Day. This oil has been formulated in a way that all your skin troubles go away within a few weeks. It helps restore moisture to the face, repair damage caused by UV rays, clear away acne marks, and bring the luster back to the skin.
The presence of squalene, rosa canina seed oil, and full-spectrum CBD oil ensures that your face no longer looks like it has been roaming under the sun for hours. The interesting thing about this oil is that you can use it anytime you feel you need a pick-me-up. It'll give instant brightness and liveliness to your face.
LUXU - Ultra Care Overnight Mask
This is the first mask on the list, and there is a reason why it is the only one: it works. You will be genuinely surprised by how well and effectively it works in giving an instant glow. With time you will notice that the LUXU Ultra Care Overnight Mask helps in reducing signs of aging like nothing has before. It is made from all organic ingredients made in the USA, enriched with the goodness of CBD, is vegan and THC free and is just right for all types of skin.
Just take a small amount and apply it all over the face and neck. Leave on for 25 minutes or overnight to see its mind-blowing effects. Be sure to clean your skin properly and hydrate once the mask is removed.
CannaGlow - Stay Young
If it is the mind, body and soul cleanse you are looking for, then the CannaGlow Stay Young candle oil will soothe away all your worries. Made from the earthy tones of Italian Fig, the scent also features hints of citrus and woodsy aromas. It will not only reduce signs of aging like fine lines and wrinkles but will also improve the production of collagen.
Simply burn the CBD infused candle, and when the oil is melted, blow it off. Once the oil is warm enough to touch, apply to your face and massage. You will be surprised by how well it works.
FOR ALL by J + P Beauty - Natural Glow Botanical Transformational Serum
Last but not the least, this serum by For All by J+P Beauty is perfect not just for your face but your hair as well. It is made from botanical ingredients like myrrh resin and argan oil that have been known since time immemorial for their healing and restorative properties. The CBD infused serum also helps remove fine lines, wrinkles, dullness, and dead skin. It helps nourish the skin with antioxidants, omega fatty acids, and other powerful nutrients.

Just a few weeks of use will help show drastic changes to both your skin and hair. The formula is free of parabens, sulfates, formaldehyde, animal ingredients, and silicones. All you have to do is take a few drops and massage your face, neck, or hair.
This was all about some of the only CBD-based products you will ever need for brighter-looking skin and a healthy complexion. So which product are you going to try first?