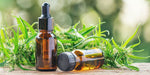 Some of you may think that 'CBD oils' and 'CBD tinctures' are words used interchangeably for the same thing. And honestly, we don't blame you as both these products have many similarities. However, these two products with the same active ingredients have some distinguished features too, making them different from each other. Let's highlight those facts in this guide for your better understanding. Keep reading.
The Base Ingredient
The most discerning feature is the base ingredient of the two products. The CBD tincture uses alcohol as its base while the CBD oil – just like the name suggests – has an oil base, and it usually involves olive oil, coconut oil, or more popularly, hemp seed oil as the carrier.
Naturally, it gives the two products a distinct texture, making CBD oils denser out of the two. CBD is often suspended in up to 70% distilled alcohol to make a tincture.
The Flavor
While both oils and tinctures are usually bitter, tinctures are believed to have a stronger flavor because of their base. On the other hand, CBD oils are milder since they're diluted by carrier oil. In both cases, most of these products are flavored with sweeteners or essential oils for a better taste.
The Shelf Life
Last but not least, the shelf life! The alcohol content makes CBD tinctures much more lasting than CBD oils. You can use a CBD tincture for up to five years. On the contrary, CBD oils can go bad sooner, especially if exposed to sunlight or any direct heat sources.
So which one is better, you may ask?
There's no straightforward answer to that because both the products offer the same when it comes to the use and benefits. There's no 'one is better than the other' in this regard, and it usually comes down to your personal preference.
And if you've been looking for the best CBD oils and tinctures for your use, we've compiled our hot favorites down below. Do check them out!
pHat Bottom Labs – CBD Full Spectrum Tincture with Mint
Experience the maximum effect of CBD by investing in this Full Spectrum CBD with Mint by pHat Bottoms Labs. This is an all-natural option without GMOs, ensuring maximum hemp's original phytonutrients, antioxidants, and terpenes.
The best part about this tincture is its pleasant mint taste. If you can't stand the bitter CBD tinctures, this is an excellent choice for you. The water-soluble product can also be taken with drinks.
Doc Brown's – CannaLixir – Grape 1000mg THC-Free CBD Tincture
Get your daily dose of CBD with the delicious tincture. Another alcohol-based tincture made with the purest ingredients. Made from organic hemp locally grown in the USA, this broad-spectrum CBD oil is one of the best products if you require a low dose or are settling with CBD for the first time.
This fast-acting CBD product offers customizable dosing to suit different needs. It features droppers so you can consume the exact amount you need. Maintain your sense of calm with Doc Brown's CannaLixir THC Free CBD Tincture.
WellPUR Organics – 500mg Premium Broad Spectrum CBD Oil
This thoughtful product is organically grown to offer the best benefits of CBD. The antioxidant-rich formula is created using supercritical green methods to preserve the maximum goodness of the CBD plant and provide you with nothing but the best.
The WellPUR Organics Premium Broad Spectrum CBD Oil is an ideal option if you're looking for an oil-based CBD product. Its unique profile perfectly reflects the superior hemp genetics used in the formation. Boost your wellness journey with this great product you will never be disappointed with.
Resurge Oils – Restore Avocado Oil with Organic Hemp Extract
Blended with the goodness of avocado oil, Restore by Resurge Oils is another all-natural product that does not contain any GMOs, THC, heavy metals, or pesticides. It's a vegan option and is also gluten-free. This topical oil offers ultimate relaxation to your mind and works for overall wellness.
Simply apply to dry skin, rubbing it in for thorough absorption. Repeat the process as per your required dosage and experience the benefits yourself.
Not Pot – CBD Glow Oil
If you're looking for a single product that offers you multiple benefits for your skin and mind, this is the product you need. The Not Pot CBD Glow Oil is a unique product formulated with two ingredients – cannabis Sativa seed oil and broad-spectrum CBD. The use of this product will bring great relaxation to your mind while also treating your skin for a radiant glow.
The oil-based formulation is sustainably sourced and is a safe product to consume. You can also apply a few drops on your face, hands or body to achieve super soft and glowing skin in a snap. This product is a pleasant surprise, so don't hesitate to try it out yourself.
So now that you can identify the two CBD-based formulations and know some of the best products you can get your hands on, which one are you willing to try out first?