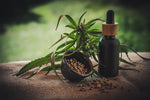 CBD products are progressively becoming more popular with time, especially with more people learning about their potential benefits. Several manufacturers are now infusing a range of products with CBD to cater to its growing demand. But when it comes to getting the right CBD product, it is essential to pay attention to its safety and quality standards. 
CBD has proven to be a natural remedy for different health conditions such as chronic pain, anxiety, cancer-related side effects, epilepsy, acne, and neurodegenerative diseases, including Alzheimer's and Parkinson's disease.
The best part is that CBD is usually safe and well-responded to by many people. The key is to choose CBD products based on good indicators of quality, safety, and transparency. To help you make an informed decision, we have compiled our best CBD products of 2020 in this article.
Best Bath Product
Infused with organic hemp seed oil and eucalyptus oil, the Sweet Earth CBD will nourish and hydrate the skin during a bath. This is an excellent product with natural rejuvenating properties for your mind and body. The mineral salt soak is a non-GMO product free from pesticides, chemical fertilizers, and herbicides.
It comes in sustainable packaging and contains other outstanding ingredients, including solar salt, fine sea salt, Epsom salt, and organic kelp powder that work in harmony to nourish and detoxify your skin.
Best Pet CBD Product
Kat's Naturals offers a variety of pet-friendly concentrations, but this particular product is our favorite. The Pet Care CBD by Kat's Naturals is pharmacist-formulated from industrial hemp oil extracted from organically grown hemp.
Give your pet the quality of life it deserves with 300mg of CBD. The therapeutic oil boosts your pet's health and body. Apply as per professional recommendation.
Best Dietary Supplement
BIOWELLNESS Immune Booster Defense Shots are an advanced immune shielding formula that helps reinforce your frontline of supporting healthy respiratory and overall functions.
The product has proven to help strengthen the immune system and maintain optimal wellness with a powerful blend of honey, vitamin A, vitamin C, elderberry, echinacea, and vitamin B12. Boost your immune system by adding this concentrated drink as your dietary supplement.
Best Facial Product
Refresh and renew your skin with Vivox Regenerating Night Cream. Our skin tends to lose natural oils, luminosity, uniformity, and nutrients with time. This magical night cream has secret ingredients that keep cell damage, dry skin, and expression lines at bay.
The combination of antioxidants, including glycolic acid, retinol, and rose water with the natural power of hemp and coffee fruit extract keeps your skin youthful, spotless, and healthy.
Best Tincture
This Full Spectrum CBD oil is crafted in light of the experts and features unrivaled and upgraded flavors. Made with organically-grown, non-GMO hemp, the KUL CBD Tincture blend also includes MCT oil for better absorption.
The super-quality tincture is an excellent addition to boost your daily routine and offers all the amazing benefits the plant has to offer. Enjoy 800mg of synergistically combined CBD blend with vanilla planifolia.  
Best Ointment
Treat your inflamed or irritated skin with the best CBD product we have for you. The PHD Organics 1000mg Tangerine ointment is infused with beneficial tangerine oils to help you revitalize your skin with crucial antioxidants.
Alleviate irritated skin, the appearance of burns, scars, and more. Apply on the targeted area and let absorb completely. Not only the ointment has pain-relieving benefits, but it also keeps your skin smooth and highly nourished.
Best Nasal Spray
The product does absolute justice to its name by offering a game-changing solution to soothe your neurological system to give it a natural boost of energy. The Noetic Game Changer Hemp Extract Nasal Spray is a fast-action formula used as a regular hemp extract supplement to improve focus and boost overall energy.
The highly-potent formula instantly absorbs into the brain and immediately impacts the neurological system. The product is free of fertilizers, herbicides, pesticides, toxins, and chemicals.
Best Perfume Oil
You can't help but fall in love with its unique scent! The Gem Story Multi-Sensory oils are a collection of oil-based perfumes infused with real crystals. The blend includes the aromatic and therapeutic-grade cypress and peppermint oils in a base of jojoba, coconut, and evening primrose.
The all-natural perfumed-oil infusion is free of parabens, synthetic preservatives, artificial scents, GMOs, dyes, and colors. This one's an excellent choice to boost energy at work or increase the focus for yoga or meditation. Let the energy align with your power with these fragrant oils.
Best Face Mask
Did you know you now have CBD in your skincare products? This excellent hydrating and skin revitalizing face mask is undoubtedly going to blow your mind. Add this organic mask to your beauty routine and restore the luminosity and youth in your appearance with every use.
The Fhenix Skin Care Face Mask is infused with CBD and other hydrating and skin-benefiting ingredients. Apply the two-piece mask on your face and leave it on for 30 minutes. Don't forget to massage in the remaining serum for the best results.