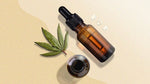 You might have been hearing about how CBD seems to work even for people from whom nothing else gives results. The friend's mom who suffered from extreme migraines, the colleague who could not sleep well at night, or the friend whose acne seems to have disappeared leaving her with glowing skin; all of these people claim that it has all been through the use of CBD products.
So do they actually work? Most experts seem to agree that it does, but with proper use. If you too have been thinking of adding CBD to your routine, then these 7 products are worth splurging on.
Terra Vida - CBD Drops Zero THC
If you are looking for a CBD oil that is free from THC, then Tera Vida CBD drops are the ones that you have been looking for, made with flavorless, 500 mg of best quality CBD tincture, this infusion contains 99% pure CBD Isolate. It also contains fractioned coconut oil. The most wonderful thing about this tincture is that it gives all the benefits of hemp without making you high!
Make sure to take the tincture once or twice a day, under the tongue. If you cannot take it directly or want to give it to someone picky about taking oils, you can also add it to foods and drinks. Just be sure to shake the bottle well before consuming it.
l i b e r a t e - CBD Glow Hydration Crème
Does it feel like your skin is sagging or not looking as young as it used to? Are you worried about aging or dull-looking skin? If yes, then you need to start using products that help revive the freshness that your skin had before. Liberate CBD Glow Hydration Crème is the best one that you can find with natural CBD. It helps in trapping moisture and deeply hydrating your skin. Made from a blend of rice extract, CBD, sodium PCA, sunflower seed oil, and rosemary extract, this cream rejuvenates your dull and tired-looking, dehydrated skin.
Free from all kinds of parabens sulfates, DEA, GMO, and other additives, this cruelty-free formula is fully recyclable and sustainable. Make sure to use it morning and night by massaging a small dollop on your face, neck, and décolletage. Be sure to put the crème on clean skin.
My Kure - CBD Sleep Aid
If you want something more potent for sleep that doesn't just calm your nerves, but actively works to bring on sleep, then opt for CBD Capsules. The CBD Sleep Aid by My Kure is especially great for people who have a hard time swallowing oil or tinctures.
These capsules are made from pure cannabidiol crystalline, chamomile, melatonin, hemp extract, hemp CBD powder, and SS sleep blend. All these ingredients combine together to promote a sense of calmness and help with the management of any kind of stress, or anxiety.
PHD Organics - CBD Tincture
It is essential to get a proper night's rest for you to be able to function optimally the next day. Anyone who suffers from anxiety, or sleep problems must get the issue sorted or it would lead to other medical conditions. If you don't want to rely on sleeping pills, then PHD Organics Alternative Relied CBD Oil is the perfect choice for you.
The tincture does not put you to sleep, it helps relieve stress and ease out tension from your body. Hence the reason why it is ideal not just to help fall asleep, but also for when you need to calm your nerves. This 100% organic, vegan, and THC-free oil contains no additives, dyes, or sugars. When taking the tincture, be sure to shake the bottle well. To see good results, take it daily with food.
Kat's Naturals - Deep Pain Cream
Joint pain, muscular aches, and other kinds of body stiffness can be life-changing. If you do not wish to rely on painkillers or other kinds of medicines, try using CBD-infused creams. These work by relaxing your muscles and joints and help to alleviate pressure, which in turn relieves pain. Kat's Naturals CBD Cream 250mg CBD is made from Critical CO2 Extracted CBD from American Grown Hemp. Also present in the ingredient list are organic avocado butter, organic vitamin E oil, Arnica oil, and other essential oils along with organic Beeswax.
You can use the cream 2-4 hours a day on the site where it hurts or where there is inflammation. You could also ask your healthcare professional how the cream should be used. Make sure not to put the cream on open wounds.
Naternal - Soothe CBD Body Butter
If you too want radiant and glowing skin, then try the Naternal Soothe CBD body butter. Perfect for all skin types, this body butter is made from sunflower oil, Shea and cocoa butter, and coconut oil, along with natural CBD. The product is best used on clean, washed skin.
You can apply it daily to your entire body after a soothing bath. It will nourish the body from deep within and help make it soft and supple.
Gnome Serum-Best Friend Tincture Full Spectrum Hemp Extract with Ahiflower oil
In search of something that would help calm your over-excited furry pal? Try the Gnome Serum Best Friend Tincture, which has specifically been designed for animals. Rich in Omega-3, hemp extract, and ahiflower, this tincture contains no artificial flavors or additives. It is ideal to soothe your agitated or excited pet. Give them a few drops daily, according to their weight. You will see a visible difference within a short span of time.
What do you think? Which one of these will you give a try? You can use different products to see how which one works best for you. Keep in mind that you would need to use CBD for at least 2-3 weeks to notice any kind of difference in your health, sleeping pattern, or skin condition. So do not give up after a single use thinking that it does not work.