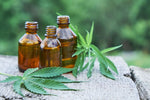 It is no secret that our body is often put under a lot of strain doing chores, meeting work deadlines, and running errands throughout the day. This could lead to early signs of aging on our skin, increased anxiety, insomnia, and other health complications.
As far as our skin is concerned, cannabidiol offers some serious anti-inflammatory and antioxidant benefits, which can be beneficial in treating skin concerns like dullness, dryness, free radical damage, and inflammation. Whether you're concerned about your facial skin, your scalp, or your entire body, we have some superb CBD oils as a solution to regenerate your skin from head to toe.
Can't wait to learn about these miracle products? Let's dive into this article!
No Thank You – An Oil For All Day
With active ingredients like rosehip oil, the No Thank You An Oil For All Day is literally that one product you need for all your skin moisturizing and replenishing needs. Not only this oil has an exterior impact on the skin but it also helps you feel refreshed and rejuvenated from within.
This season, glow as much as you like with this miracle CBD oil that boosts your natural skin texture and repairs the UV damage that could take a toll on your skin. A little goes a long way so use it as often as you like and enjoy all the amazing skin benefits it has to offer.
Soji Health - Body Oil
Are you looking for a quick solution to get soothing relief for your sore muscles? Whether you're into sports or hardcore workout, your muscles can really give you a tough time without a restorative solution. The Soji Health Body Oil is a fast-absorbing, broad spectrum body oil with benefits of CBD and antioxidants.
Enjoy a successful post-workout recovery along with deep moisturizing for your body with this replenishing body oil. In addition to offering your muscles relief, the oil is suitable for various other skin and body concerns. Apply on specific muscles or give your entire body a gentle body oil massage for best results.
Ma'at Botanicals – Kuan Yin Massage Oil
If you've been hunting for a miracle nectar that your body is looking for, your search has come to an end. Offering a variety of benefits to your body and mind, this spectacular product is often described as a divine nectar infused with the goodness of CBD. The Ma'at Botanicals Kuan Yin Massage Oil will leave your body feeling at its best.
The special formula is infused with hemp for nurturing, soothing, and relaxing your body and mind. This calming massage oil will take your body into a relaxed mode so you can instantly feel better even if you've had a long day. Try it out and experience it all yourself.
GreenSky – Argana Restoring Body Oil
The worst you can deal with in any season is damaged and inflamed skin. Whether you have sensitive skin that works up during summer or dry skin that becomes flaky when the weather becomes chilly, you need a product that can penetrate deep into the layers of your skin and keep it silky soft and smooth. Our GreenSky Argana Restoring Body Oil offers exactly that!
Treat dry and damaged skin, and get rid of blemishes, uneven skin tone, blotchiness, redness, and sore facial muscles with this single product that works like magic. Infused with the goodness of CBD and various other organic oils, regular topical use of this product will leave your skin smoother, softer, and free of all skin problems.
Liquid Light CBD – Goddess Oil
Rejuvenate your skin and regenerate it at a cellular level with yet another product that works wonders. The Liquid Light CBD Goddess Oil will unleash the goddess in you by beautifying, moisturizing, and soothing your skin. The high-quality formula is 100% natural with a combination of concentrated organic CBD, rose, and jojoba oil.
The benefits of this amazing oil are not limited to bringing back the glow on your face but it can also be used to soothe a number of skin problems such as eczema and psoriasis.
Hemp Code – Dry Body Oil
Featuring tons of beneficial properties for skincare, this infused miracle oil has much more than just CBD. The Hemp Code Dry Body Oil contains an exclusive combination of organic sweet almond oil as well as Italian Hemp Oil to treat your skin and bring back silkiness and softness without making it greasy.
The high-quality oil instantly penetrates in your skin, keeping it hydrated and well-moisturized. Since the blend also contains sweet almond oil, the oil also offers nourishing action to treat dry and scaly skin. Overall, enjoy a better skin tone with this clinically-tested, all-natural dry body oil.
Bèselan Botanicals – Pure Massage Oil
This product guarantees revival, hydration, and nourishment – what else do you need for your skin! The best part is that the Pure Massage Oil by Beselan Botanicals is suitable for your entire body, including your face. The fragrance-free oil is formulated using a unique blend to offer hydration and relief for all skin types.
The Pure Massage Oil has your best interest in mind and therefore, offers you the benefits of both hemp oil and coconut oil. Moisturize the deeper levels of your skin without clogging pores and enjoy the goodness of triglycerides, natural fats, and vitamins.