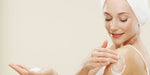 The fall season can be the worst time for your skin. Not only do the winds cause dryness to your skin, but they also make it cracked, dull-looking and take away its beauty. So what can you do? You can start a strict skincare routine particularly directed towards the fall season. Not sure where to look?

In this blog, we have all the answers for you about the best body butters to help you transition to a dry/fall season. Read on to find out how you can protect and nourish your skin just the right way.
NUYU Body Butter
If you are looking for something organic, made with natural products, this is the body butter you must choose. NUYU Body Butter is manufactured from Shea butter and many organic ingredients like licorice root extract, beeswax, jojoba, and cocoa seed butter.
It helps in retaining moisture without leaving any oily residue. Your skin will feel soft as silk and glow from within. All you have to do is apply as much as you desire all over your body, preferably after you have taken a bath.
SUPA Naturals Body Butter
Another completely natural, vegan, and odorless body butter is the SUPA Naturals Body Butter. Made from coconut oil, jojoba oil, vitamin E, and shea butter, this concoction helps hydrate your skin and promotes a clean and clear, rosy complexion.

The great thing about this body butter is that it can be used by people of all skin types, even those who have sensitive skin, as it has no artificial fragrance or any kind of preservatives.
Ma'at Botanicals Bast Body Butter
A mixture of coconut oil, botanical butter, and full-spectrum hemp extract, the Body Butter by Ma'at Botanicals is one people dream of. It will make your skin luscious to the touch and beautiful to look at. Boosting fragrant citrus and chocolate aroma, this body butter gives your skin much-needed hydration in changing weather.
Free from paraben and 100% vegan, it can be used by people of all skin types. Be sure to apply it to a slightly damp body for results that will seem magical to you.
LUXU Advanced Texturizing Butter
LUXU Advanced Texturizing Butter is made from Liposomal CBD oil and multiple organic ingredients. The creamy butter helps in increasing hydration all over your body and keeping it safe from dryness. It has been specifically designed to prevent loss of moisture, reduce itchiness, and help in keeping the skin fresh.

This body butter is free of THC, non-GMO, contains proprietary Trepenes blend, and is vegan. Apply on the skin after every shower and rub with gentle hands in circular motions until all the butter is absorbed.
My Kure Body Butter
Handcrafted with love and science, the My KURE Body Butter contains a variety of vitamins, organic hemp oil, Shea butter, coconut oil, and broad-spectrum CBD isolate. It makes sure that moisture is trapped within the skin so no wind or chilliness can steal it away.
Be sure to apply it to your whole body the day you feel the weather is transitioning from hot to cold. Repeated use will transform your skin and leave it feeling like silk.
Science of Life Alchemy CBD Body Butter
Does it feel like your skin is peeling away because of the harsh weather? It is time for you to invest in Science of Life Alchemy CBD Body Butter. Not only does this butter help in giving hydration to your skin, but it also heals what has been damaged, like dry, peeling skin, roughness, and dullness.
No matter how chapped or cracked your skin is, you will notice it recovering slowly but surely with constant use of this body butter. It is skin nourishing and revitalizing.
Ology Essentials Whipped Body Butter – Grapefruit
This Ology Essentials Whipped Body Butter is exactly what you had in mind when you were looking for fall-season skincare products. Ology Essentials comes up with products that don't just work but leave a lasting impression. Within a short span of time, you will notice that your skin has started glowing.


It is made from 83 mg of CBD Isolate and ethically sourced essential oils. The presence of grapefruit will keep your skin smelling fresh and delicious.
Naternal Soothe CBD Body Butter
Another ideal butter for the cold season is the Naternal Soothe CBD Body Butter. The rich formula is designed with a combination of CBD, sunflower oil, cocoa butter, and Shea butter. It is so lightweight that once absorbed, you will feel like there is nothing on your skin, just the natural goodness of silky soft, and smooth skin.
You won't have to worry about the greasy residue like some butter leave on your skin. Rub into the skin after every shower and see the difference.
Terra Vida CBD Body Moisture Blast Butter
The creamy Terra Vida CBD Moisture Blast Butter is the perfect skincare item that is a must-have in your daily routine for fall. It melts into your skin and gets completely absorbed, softening the dry cracks and healing the dryness.

Once you start, you would not want to go a day without using it.
Relm CBD + CBG Recovery Body Butter
Relm CBD+CBG Recovery Body Butter is manufactured from a mix of arnica essential oil, high concentrate CBG, and CBD, along with other natural ingredients. It is not just perfect for dry skin but also works wonderfully for sore and tired muscles.

The butter helps with proper blood flow so that your body will feel more relaxed and pain-free after every workout routine. Just rub it in after your post-workout shower and find yourself getting rid of muscle soreness.
So these are all the body butter that will ensure that your skin remains soft, moisturized, and completely fresh throughout the transitioning season. You won't have to worry about the harsh effects of the weather, nor will you have to sit home to keep your skin safe. Be sure to try them all to see what works best for you.