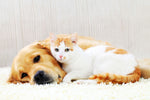 Did you know CBD is known to exert profound balancing and healing effects for your beloved pets? While a lot of people are aware that cannabidiol, a nonpsychoactive molecule of the cannabis plant, is popularly being publicized as a natural treatment for humans against conditions like anxiety, chronic pain, and insomnia, its usage as a natural pain reliever for animals is new to many.
The good news is that the evidence of using cannabidiol in veterinary medicine is on the rise, and more research is carried out to validate its correct dosage, efficacy, and safety for your cats and dogs. It is believed that hemp-based nutraceuticals can positively treat your four-legged buddies and help relieve pain. However, evaluating dosing effects is necessary.
So keeping your pet's best interest and health in mind, make sure to always consult your veterinarian before treating your pets with CBD. This article will talk about some of the best and most popular CBD products for cats and dogs that help relieve pain naturally.
WellPUR Pets – Pet Hemp Extract Broad Spectrum CBD Tincture
Featuring Nano-enhanced absorption technology, this product ensures your pet's best health from within. The product is known to offer many health advantages to your cats and dogs, including increased mobility, stress management, pain relief, and overall wellness. Pet Hemp Extract Broad Spectrum CBD Tincture by WellPUR Pets is veterinarian formulated and contains absolutely no THC content.

Not only this but all pet products under this brand are superlatively manufactured and processed for maximum effectiveness. Regardless of why your pet is experiencing pain, help your fur buddy right away with a product that offers natural pain relief. Rich in anti-inflammatory properties, this CBD product helps with the healing process and encourages recovery by supporting healthy cellular activity.
Soji Health Pet Relief with Salmon Oil
Soji Health Pet Relief with Salmon Oil is one of our most trusted natural pain-relievers for pets. The full-spectrum hemp extract oil combined with the goodness of salmon oil does the magic of supporting your pet's overall health and lifestyle.


The non-psychoactive formula is gluten-free and does not contain THC. The best part about this product is that it features a pump instead of a dropper, making accurate dosing easier. The pet-relief formula is an excellent product to help animals of all sizes get rid of pain and anxiety.
My KURE Hemp – Pet Kure
This magical blend for pets uses organic hemp extract in the purest form to offer maximum efficacy. The Pet Kure Oil offers amazing health benefits to your pet, but this product is most popular for helping them relieve pain and anxiety. A few drops, and you will see your car or dog thriving in no time.


Whether your pet is recovering from surgery or experiencing pain due to age, this formula will ideally soothe them and help them with chronic pain. The product works by impacting endocannabinoid receptor activity for quick results.
Noetic Nutraceuticals – Morgan's Magic Pet Tincture
Once you learn about the benefits of Morgan's Magic Pet Tincture, you will be more confident about this dietary supplement for pets. The blend contains phytonutrient-rich hemp oil, along with the best ratio of omega 3, 6, and 9 fatty acids to help your pet receive tons of health benefits, including relief from pain and anxiety.


The rich formula with full-spectrum hemp extract has anti-inflammatory and anti-pain features that bring your pet relief from pain due to arthritis, disease, or aging. After consulting with your veterinarian, this tincture can be added to your pet's daily routine.
Kat's Naturals – Pet Care
Whether you're helping your precious fur buddy relieve pain or trying to calm them down in anxiety or nervousness, this product is your best bet. A few drops of Kat's Naturals Pet Care can do the magic and offer natural pain relief to your pet. The THC-free formula is known to enhance the overall quality of your pet's life.


The potent blend is veterinarian-approved and has therapeutic goodness that impacts your pet's overall health and lifestyle. The formula is excellent for topical use. Consult your vet for accurate dosage for best results.
Also Organics 200MG CBD Tincture (Pets)
This mild CBD Tincture for Pets by Also Organics is the product you can rely on when trying to help your pet with pain relief. The effective blend is formulated with phyto-rich hemp oil and organic MCT that also encourages your pet's overall health.


Promote your pet's healthy sleep habits by relieving stress and anxiety and help get rid of pain with this potent formula. The CBD goodness makes it a suitable product for pets' daily use.
Receptra Naturals – Large Pet CBD Tincture
The efficacy of some CBD pet products may not be very effective for bigger mammals. If you have a large breed dog suffering from pain, this Large Pet CBD Tincture by Receptra Naturals is your go-to product. The product is suitable for pets that are over 40lbs. This four-legged wellness solution is your best bet for that big fella.
The oral tincture is rich in pure hemp extracted from the Colorado-grown hemp plants for natural benefits.
SUPA Naturals – Full Spectrum CBD Oil Natural for Pets
If you're looking for your one-stop solution for your pet's wellness, this Full Spectrum CBD Oil by SUPA Naturals won't disappoint you. Rich in the goodness of non-GMO full-spectrum CBD Oil, this natural blend is a magic potion for pets and their overall well-being.


Help your little fur buddy calm down and feel more relaxed with the benefits of active cannabinoids. Offering relief from pain, this high-quality product follows FDA and GMP standards to offer the utmost safety for your pets.