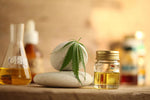 While there are thousands of CBD products lining up the market, it is up to you, as the consumer to determine the safest and best-suited product for you. The following are a few methods that will help you with the same.
Consider How Much THC The Product Contains
This is the most important element to consider if you want to avoid the head high that is associated with THC. Some research, however, actually suggests that for some people, CBD may work better when combines with a little THC. This is more of a theoretical concept and only a low amount of THC, as low as 0.3%, is enough to enhance CBD's therapeutic effects without inflicting the psychoactive effects of THC.
This becomes even more important when you consider that THC, while legal is several states, is also illegal in most of them. Therefore, in order for a CBD product to maintain its legality, it can only contain a certain amount of THC.
What Ingredients Are Used In The Product
Looking at the ingredient list is another important list. The first red flag would be if the ingredients are not listed at all. Finally, a quick Google search should help you figure out if the ingredients included are healthy or not. The product gets bonus points if it contains premium ingredients added to enhance the benefits of the product, such as Vitamin B12 for pain relief and Melatonin in CBD sleep capsules.
For Products From Hemp, Find Out Where It Was Grown
Most CBD products that are sold in retail stores and online come from hemp and not marijuana, and the source of this hemp is very important. Most hemp in the US comes from Oregon or Colorado (that have long histories with cannabis) or Kentucky (which passed a law in 2013 to support hemp growers), or is imported overseas. Colorado has the most robust hemp program with spot-tests of the plants while they're still in the field.
Hemp from overseas is not subject to state of federal testing, however testing results can and should be readily available for customers. If you cannot find any test results on the product, please contact the manufacturers. A red flag is if they do not part with this information readily, and int hat case you might be better off choosing another seller.
Ask For Test Results
Always ask for a product's COA or Certificate of Analysis. This document shows how a product performed on tests checking for CBD and THC levels, as well as the presence of contaminants such as heavy metals and microbial contaminants such as mold or bacteria. If the sample contains contaminants below the safe limit, the analysis will list "PASS" under the Status column. If it exceeds the safe limit, the report will list "FAIL" and this is another red flag.
In the test results, you can also check if the cannabinoid content listed on the product is consistent with the analysis report. The report's primary concern is to summarize the cannabinoid profile and concentration in the sample. This means listing each cannabinoid detected in the sample along with its concentration withing the sample. For example, if the product labels lists the product to contain 1000mg of CBD, then that should be confirmed in the products lab report. While a little deviation is normal, a big difference would be considered another red flag.
Look For Products That List CBD Amount
Similarly always look for products that list the CBD amount not just in the whole bottle but in each dose. Dosages are expressed in milligrams and may vary considerably depending on the product. This is helpful to you as a consumer to gauge how, if at all, that product would fit into your lifestyle. Experts recommend starting with low doses and gradually moving up. For example, with tinctures, you might want to consider starting off with a product that has 10mg per dose. This is calculating by dividing the Total CBD Content in Bottle by Number of Servings in Bottle. 
What Type Of CBD Is Being Used In The Product  
While buying CBD products, consumers are faced with "Full Spectrum CBD," "Broad Spectrum CBD," or "CBD Isolate." The difference between each type refers ton the cannabinoid extraction process.
CBD Isolate is pure CBD which was extracted from the hemp plant and then isolated from other cannabinoids, resulting in a 99% pure CBD extract.
Full Spectrum CBD is CBD that was extracted from the hemp plant along with all the other cannabinoids including THC.
Broad Spectrum CBD is a mix between both CBD isolate and Full Spectrum CBD. It is essentially Full Spectrum CBD without THC.
Depending on legality of THC in your state, a Full Spectrum CBD may not be suitable for you in which case you'd choose either CBD Isolate of Broad Spectrum CBD.
How Was The CBD Extracted  
While there are several different methods of extracting CBD, CO2 extraction is standard as it is safe and delivered a pure end product. This method uses pressurized carbon dioxide to extract CBD from the plant and then compresses it into a supercritical cold liquid state while still preserving the nutrient rich trichomes and terpenes. Thus, this is the most superior way of extracting CBD and should be the standard for any quality CBD product.
The Reputation Of The Company  
While this does not guarantee the quality of a product, it does provide an useful insight into other's experiences with the product and could reveal potential problems you'd much rather avoid. This is a very common and easy way of filtering out blatantly bad products.
Making Sweeping Health Claims  
While CBD is very popular, making health claims is only legal for prescription drugs that go through heavy scrutiny and testing for safety and effectiveness. The more dramatic the claim, the more skeptical you should be.
And Finally, Is CBD Legal To Purchase And Use In Your State  
While CBD laws are definitely progressing, it's still very much a gray area especially if the product contains THC. While hemp-derived CBD has been declared legal in most states, some states have certain requirements to use CBD, while others have strict laws against it.
You should especially be aware of the THC-content in the product, and if the CBD was extracted from hemp or marijuana as marijuana-derived CBD falls under marijuana laws due to its potential THC-content.
Thus, it would be prudent to check the laws and regulations pertaining to CBD to avoid any potential issues.