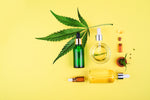 CBD is all the rage these days. From your grandfather asking about it for his arthritis to your mom wondering whether it would help with anti-aging, and your friend looking into it for her anxiety attacks, CBD is said to work for pretty much all the health concerns you may have in life!

Does it really work? What is it anyway? According to experts, it is the best natural remedy for quite a few ailments, aches, and pains. Unlike its cousin THC, CBD is not something you would need a prescription for as it is readily available over the counter. This is because it does not have any psychoactive, meaning it does not make you 'high'!

Hence the reason why more and more people are trying to get their hands on it. It is all-natural and has little to no side effects. Not sure what you can use it for? We're here to guide you:
Helps with Better Sleep
Research suggests that CBD can truly work in helping you sleep better. How? It calms the nerve and lets your brain feel a sense of security. This not only controls negative thoughts, but it also helps in getting rid of anxiety. Thus, you sleep easily and without interruption.
Works as an Anti-Inflammatory
Recurrent use of CBD oil aids in getting rid of inflammation on the face and other parts of the body. It is even beneficial for the digestive tract. Ingesting the oil would help eliminate problems like acid reflux, ulcers, and other gastrointestinal diseases. 
Helps in Reducing Stress
Even though there isn't pervasive research on CBD, researchers confirm that CBD reduces stress, anxiety, and depression. A Brazilian study showed that oral intake of CBD oil among the patients showed a significant decline in their anxiety.
What's more, CBD is also safe enough to be used among children who have anxiety and post-traumatic stress disorder.
Guarantees Healthier Skin
Yes, CBD is known to have a positive effect on skin conditions like acne. A scientific study showed that CBD oil helps eliminate inflammation on the skin and controls the production of excess sebum. This helped in clearing pores and getting rid of acne. With regular use of CBD oil, you can get healthier, glowing skin that lasts.
It is incredible how something like this can change your health, right? So how can you make CBD a part of your daily routine?
Read on to find out more.
How to Incorporate CBD Throughout Your Day
It may sound like CBD can only be consumed orally, but there are multiple ways to incorporate it through your daily routine. Here is how you can make sure that all your aches, pains, and other health issues are resolved by persistent use of CBD every single day.
Morning 
Our day often begins with a giant mug of coffee or a tall glass of smoothie. You can easily add a few drops of CBD oil to your drink to give you the morning punch you need. It will help in calming nerves and helping you feel more in control of your situation.Wondering which oil to select? Try Eve Farm's Full Spectrum CBD Oil.
Just a dropper to your morning drink, 1-3 times a day to notice just how well it serves you. If you had been experiencing anxiety issues, this product is sure to help. 
Morning Shower Routine
As mentioned before, CBD is not only consumable, it can also be used in skincare products and hygiene items, like soaps, lotions, shower gels, and other things. How can you use it? When you take your morning shower, use a shower get or soap that contains CBD in its ingredient list.

Koa + Roy CBD Soap Cube + Charcoal is one of the best soaps that you will find in the market for CBD usage. It will not just clean your skin without drying; it will also nourish it from within. Since the formula is so gentle, it is ideal for daily usage.
As for a moisturizer for your body after the shower, try the Also Organic lotion that contains CBD oil, along with vitamin C and lavender, for smooth, soft, and supple skin. 
Put it on Your Face!
Unbelievable right that CBD is also included in some makeup products? It's true. You can now incorporate CBD in your routine through the makeup you use. From foundations to lipsticks, serums to lip balms, CBD can be found everywhere if you know where to look.

Whether you are going for work, or a night out with friends, Spectra Cosmetics Radical Change CBD Infused Liquid Foundation is the one that will keep your skin looking smooth and even. The lightweight liquid foundation is the kind of modern foundation that brings in the goodness of cannaboid science to your cosmetic needs.
For lipsticks, opt for Spectra Cosmetics Get On My Level CBD Infused Liquid Lipsticks. The beautifully silky formula of this liquid lipstick has one additional magic ingredient, CBD, which not only hydrates your lips but also protects them from environmental pollution. There are many colors to choose from.
Evening
For your evening skincare routine, you can choose products that contain CBD so that potent elixir helps in skin and body rejuvenation day and night.
Take your makeup off with KUL CBD Exfoliating Cleanser. The sulfate-free cleanser contains Full Spectrum CBD, which doesn't just remove makeup, but also dirt, grime, and dead skin from your face after a day of work. This cleanser is also useful for damaged skin caused by acne or other skin conditions.
Once you have wiped for face clean, apply Mama's Farmacy Premium Hemp Rejuvenating Serum (CBD + CoQ10 + Hyaluronic Acid). This serum contains not just CBD oil, but also many other antioxidants and botanical oils. It will heal and rejuvenate your skin from within, and you will be able to notice the difference that your skin gets in mere weeks. 
Kiss It!
Finish off your CBD skincare routine with a hydrating lip balm. You don't want your lips to become chapped, cracked, or dark from exposure to all the irritants in the air, do you?

Try the Leanna Organics CBD Lip Balm for moisturized, soft lips. It contains CBD oil along with natural butter. 
Have a Warm Drink of Tea
Now that you are done with your self-care routine, it is time to end the day with a warm cup of tea. Pick out a concoction that has CBD infused in its mixture so that you can add it to your night-time cuppa.

Try Receptra Naturals' Serious Rest 25 + Chamomile CBD tincture, which is designed to help you get a peaceful night's sleep.
Now that you know about all the ways you can incorporate CBD in your daily routine, start buying the products today and using them every day for a healthy, happy you.